The Safest Way to Pack and Move a Television – Naples Moving and Storage
How much did you spend on that gorgeous giant screen TV again? That's okay – let's not think about that right now! Instead, let's talk about how to keep that beautiful beast safe during shipping. Now, don't take this task lightly, for certain, as only premium supplies and customized crating will prevent transport damage.
As you might consider this a priority item due to its fragility, you may want to consider enlisting the services of a professional Naples moving and storage team. Nonetheless, here are some helpful tips on the safest way to pack and move your TV from our Best Moving experts.
Perfect Naples Moving and Storage Solutions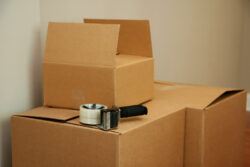 Remove and Pack the Power Cord
The first step to prepare your TV for shipping is to remove the power cord. After detaching it, pack it away in its accessory box, or use a large Ziploc bag that's been labeled properly.
Separate the Base and TV
If your television is mounted on a base, then you'll need to separate both pieces. Usually, to do so, you'll need to locate the screws – normally 2-4 of them – on the back of the base that secures the TV to it. Once the screws are removed, the TV should separate and lift right off. For the time being, leave the base to the side and focus on the TV.
Bubble Wrap the Screen for Protection
Our Naples moving and storage pros suggest you use bubble wrap for additional screen protection. To keep the wrapping place use packaging tape. In the event of a last-minute emergency where you don't have any bubble wrap, a thick blanket will do the trick.
Box the Television
Select a new, sturdy cardboard box to ensure your television has maximum protection. Insert the TV into the box upright, adding extra bubble wrap into the empty spaces to make a snug, secure fit. Now, tape the box closed – again, don't skimp on the tape. Lastly, label each surface of the box FRAGILE.
Pack the Accessories
Next, you can focus on proper packing and boxing of the rest of the items and accessories, such as the base, power cord, and remote. Like the TV, we suggest you wrap them using the bubble wrap as well. Box them up together, if possible, and label the container clearly.
Finally, your TV is properly packed and now ready to move!
If you need help with any aspect of your upcoming transfer, don't hesitate to contact us today at Best Moving and Storage. Our Naples moving and storage pros are ready to make your move seamless!