Need Moving Help? Try These Packing Tips
5 Pro Packing Tips for When you Need to Move in a Rush
Purchased a new home that requires you to move immediately? Put off planning your relocation because you didn't have all the details? When you have to oversee a transfer within a very small window of opportunity, the whole process can get downright stressful. Whether you only have a few days or weeks to pack, we have some suggestions that will make everything run a lot smoother and more efficiently. Check out the following 5 pro packing tips when you need moving help because you're in a huge rush!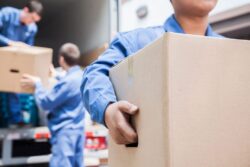 Contact Best Moving and Storage for Moving Help Today!
Whatever you do, don't panic.
Don't panic whatever you do, and just remember to breathe. It may seem like an insurmountable task to box up all your belongings in one day, but with enough elbow grease and motivation, you can certainly get things done! The key is to keep it cool and tackle one thing at a time.
Prioritize goals with a checklist.
One of the best moving help tips is to prioritize your goals with a checklist. This list will keep track of what needs to be done and when it needs to be done, highlighting their order of importance. Also, it will allow you to keep track of what needs to go where. And of course, it's also a place to jot down any extra notes so you won't forget them later.
Don't be clingy – purge that closet!
From an organizational point of view, going through all your items to assess if they'll be going or staying is secretly a blessing in disguise. You'll have a tight deadline to adhere to, and as such, you'll need to be more decisive. Go with your gut when purging your closet – don't be clingy to old items you're likely to never use again or clothes that are outdated. When all is said and done, donate, recycle or throw away.
Opt for professional packing materials.
The last thing you want to deal with is a total packing material disaster in the middle of a mad rush. Forget about the freebie boxes at the local store, they're likely structurally unstable and could break apart during loading or transfers. Instead, opt for new, professional-grade packing materials.
Need moving help? Hire experts!
Feeling way over your head with your move? Don't worry, you can always hire an expert team for the ultimate moving help. At Best Moving and Storage, we can take over everything, from start to finish, so you don't have to lift a finger. With an all-inclusive package, our packers and movers will get you to your new place in no time!
Contact us today at Best Moving and Storage to find out more about how we can get you to your new home quickly, efficiently, and safely.