Moving you Home Office? Avoid These 4 Most Common Mistakes!
After so much time at your current location, you've probably perfected your office setup perfectly. However, add the fact that you have no choice but to move, and you're likely looking at a very stressful and overwhelming feat that simply must be performed. Whether it's across the street or across the country, there are many steps that can be taken to prevent unnecessary downtime and mix-ups. The truth is transferring offices involved a lot more than just packing up everything. In fact, without professional movers and meticulous planning, your upcoming adventure can quickly turn into a nightmare.
Moving you Home Office? Avoid These 4 Most Common Mistakes!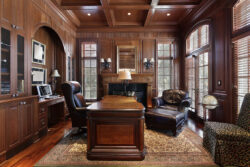 Stick the stress and the mess with the following advice from Best Moving and Storage. Avoid these 4 most common mistakes for a fast, efficient moving day!
Pulling a D.I.Y Move
Whether your home office is small or big, there are a lot of aspects of your move that can be greatly simplified by hiring professional movers. Aside from packing, loading, and office setup, there's also planning and organizing. While it may sound like a great plan to begin with – with the possibility of saving yourself some money – you may be barrelling towards unexpected costs, discrepancies, needless downtime, and a whole lot of stress too.
Not Researching the Company you Hire
The reality is not all movers are created equal. If you don't put in the time to research who you're hiring, you may just end up with a very negative experience come moving day. However, researching your options and choosing wisely can mean a world of difference, where you won't have to deal with delays damage and downtime.
Little to No Organizing or Planning
Proper planning and organizing is undoubtedly the key to any successful transfer. As our experienced movers well-known, there are many components to office relocation, some of which you may have never considered, such as deadlines, timeframes, and appropriate moving equipment. While you can avoid this mistake with thorough research and by using an in-depth checklist, if you don't have the time to do all of this yourself, you can simply delegate these things to a professional moving company.
Using Incorrect Moving Equipment
Don't cut corners in the hopes of saving money by using incorrect moving equipment. Not only will you make the transfer much less efficient, but you can also get hurt or damage your office equipment in the process – or both! Truly, there's no way around it, you just need to use the right tools and equipment, including moving straps, custom crates, cardboard boxes, padded blankets, and whatever else is necessary. Using the right equipment can mean the difference between a successful and unsuccessful move.
Call Best Moving For Professional Office Setup Services
Your office move can be a cinch with the professionals at Best Moving and Storage. We can plan and organize everything for you even help with office setup once moved in. Call us today to find out more about our various packages.