Advice on How to Pack your Clothes for Storage in Naples, FL
A quick way to free up precious closet space is to use professional storage in Naples, FL for your clothing. Also, rather than letting valuable clothes like a wedding dress or special occasion pieces collect dust at the back of your wardrobe, a specialized storage facility can be a great way to safely preserve delicate items. If you're considering doing so, then check out the following sage advice from our pros at Best Moving and Storage on how to pack your belongings to keep them in perfect condition.
Advice on How to Pack your Clothes for Storage in Naples, FL
Wash clothing before packing them for storage
No matter how long they'll be stored for, it's essential wash your clothes before packing them for storage in Naples, FL. If you don't, residual chemicals on the fabrics like antiperspirant, perfume, smoke or even perspiration can eventually settle into the material and discolor it. Also, after a thorough washing, make sure all pieces are adequately dried. Even slight dampness can cause mildew and mold growth, which can permanently ruin your clothes.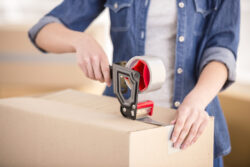 Use professional garment storage supplies
Did you know there are a variety of professional grade storage supplies specifically for garments?
Wardrobe boxes – Available in various sizes, these boxes are specifically designed for clothes on hangers, thus minimizing wrinkles. They're great for pieces like dresses, jackets, and clothes made with delicate materials.
Garment bags – Use these bags if you're worried your clothes need an extra layer of protection while in the garment box. Pieces that don't need a hanger can be folded and stored within the boxes with acid-free tissue paper.
Clothes bins – Stronger than your average cardboard box, bins can shield clothing from potential pests, moisture, and dust.
Figure out what to fold and what to hang
Depending on what clothes you're storing, some items may need to be folded while others require a hanger. Here's a general guideline if you're not entirely sure what to do with your belongings.
Items that need a hanger:
Dresses
Blouses
Wrinkle-prone clothes
Blazers
Dress pants

Items that need to be folded:
Khaki and denim pants
Delicates
T-shirts
Sweaters
Stretchy clothing

To vacuum-seal or not to vacuum-seal?
While vacuum-sealing your clothes can indeed greatly reduce the amount of space the pieces need for storage, this method is not always recommended. In general, rare or expensive pieces like a silk wedding dress or a fur coat can get crushed in the sealed bag. However, if you're just trying to store everyday clothes that won't get damaged, then feel free to vacuum-seal them.
Need secure, affordable storage in Naples, FL? Call us today at Best Moving and Storage to find out more about our space-saving solutions.